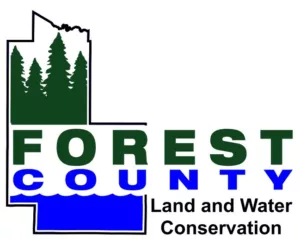 Conservation Corner
Conservation Corner is a weekly article produced by the Forest County Land & Water Conservation Department. For more information contact Steve Kircher, County Conservationist-Land Information/GIS Director at 715-478-1387 or by e-mail at .
Reflecting on the Success of the Forest County, WI Summer Conservation Tour
Last Friday, a remarkable conservation tour unfolded, bringing together Conservationists from nine counties in northern Wisconsin to explore some of the treasures of Forest County.
The summer conservation tour in Forest County was part of a yearly event that happens with the North Central Area Association.  The North Central Area Association is comprised of Conservation members from Forest, Florence, Langlade, Lincoln, Marathon, Oneida, Portage, Vilas and Wood counties.  Each summer, a County is asked to conduct a Summer Tour, highlighting Conservation activities or organizations within their respective county.
Members of the Association met at Veterans Memorial Park on Lake Metonga and after Coffee and Pastries provided by Whiskey Darling, we presented the reclamation work that was done at the campground to raise the level and prevent future flooding.
Following the Campground presentation, we boarded a bus provided by Pitts Bus Service for a tour of Forest County.  We stopped at several locations along the East Shore of Lake Metonga to discuss the Cost Share Program and rip-rap projects that had been completed to prevent shoreline erosion.
Our next stop was the Forest County Potawatomi Farms in Blackwell.  Dave Cronauer, farm manager, explained all of the different project the farm is involved with from the store, to aquaponics, vegetable green houses, composting, bison raising, chickens, pigs and maple syrup.  Members of the association were most impressed with all of the different projects Dave and his staff are involved with.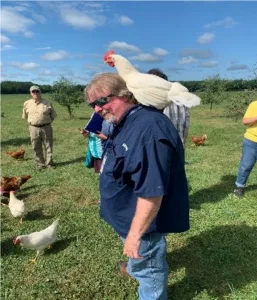 Scott Goodwin, Florence County Conservationist and a chicken
From there, we headed back to Veterans Memorial Park for a BBQ lunch provided by Wisco BBQ.  Luke Marten and his wife provided a wonderful lunch for the association and we received a lot of compliments.
After a short business meeting, we boarded the bus again to visit the Mole Lake Fish Hatchery.  Mike Preul, Mole Lake's Fisheries Biologist, met us and explained his efforts to raise walleye for lakes across northern Wisconsin.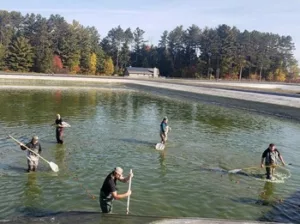 Walleye Rearing Pond, Mole Lake Fish Hatchery
We're looking forward to next year's Summer Tour that will be hosted by Langlade County.