Conservation Corner
Conservation Corner is a weekly article produced by the Forest County Land &Water Conservation Department. For more information contact Steve Kircher, County Conservationist-Land Information/GIS Director at 715-478-1387 or by e-mail at .
Last week, Forest County Land & Water was able to collaborate with Wild Rivers Invasive Species Coalition (WRISC) and the Forest, Langlade and Oconto County Waters (FLOW) Aquatic Invasive Species Coordinator to treat a Phragmites outbreak.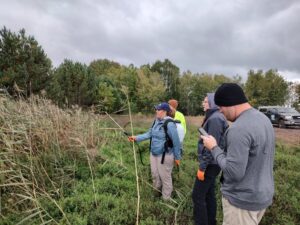 A small patch of Invasive Phragmites was identified last summer and work began to eliminate the outbreak before it was allowed to spread too far.  WRISC and FLOW AIS were notified of the siting and began putting a treatment plan together.
WRISC is a multi-partner organization representing five counties in two states, Forest, Florence, Marinette and Iron and Dickinson Counties in Michigan.  WRISC is dedicated to the management of invasive species on our lands and waters through cooperation, education, prevention, and control.  The FLOW AIS Coordinator is responsible for invasive management and control in Forest, Langlade and Oconto counties.
If you travel the Highway 41 Corridor along Lake Michigan from Marinette to Green Bay, you've seen Invasive Phragmites.
Invasive phragmites (Phragmites australis subsp. australis) or common reed is a tall, perennial grass that aggressively colonizes and forms dense stands in freshwater wetlands.  It is found throughout North America, but is most common along the east coast of the US and in the Great Lakes region.
In Wisconsin, invasive phragmites can be found along shorelines of lakes, exposed lake beds, marshes, streams, swamps, rivers, roadside ditches, heavily disturbed sites and other low, wet areas.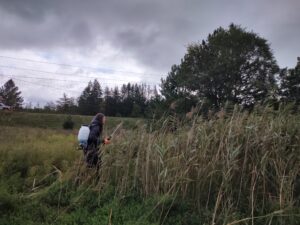 Invasive phragmites harms the environment by reducing wildlife habitats, decreasing plant diversity, and altering water levels by trapping sediments.  In addition, invasive phragmites can be a fire hazard.
Stands along roadsides can obstruct the view of drivers, leading to automobile accidents, and stands along shorelines can reduce property values by blocking lake views, and restricting access for swimming, fishing and hunting.
Invasive phragmites is a subspecies of a Eurasian form of the grass (known as "haplotype M") that is believed to have been accidentally introduced into North America in the early 19th century.  A native phragmites (Phragmites australis subsp. americanus) once grew abundantly in North America, but currently is rare because it has been displaced by invasive phragmites.