Conservation Corner
Conservation Corner is a weekly article produced by the Forest County Land & Water Conservation Department. For more information contact Steve Kircher, County Conservationist-Land Information/GIS Director at 715-478-1387 or by e-mail at .
In a previous article, I failed to acknowledge the Forest County Tourism Commission and the Pickerel-Crane Lake Protection & Rehabilitation District, who were financial contributors to the three boat landing projects.  Additionally, Crane Lake's landing did not get new lighting or signage.
National Forest Products Week: Celebrating Wisconsin's Natural Heritage
Last week was National Forest Products Week. Since 1960, Americans have celebrated Forest Products during this week.  Wisconsin is a major contributor to the Forest Products market.  Wisconsin's forest products industry contributes around $24 billion in goods and services and provides almost $7 billion in value-added output. On top of the monetary contribution to the state's economy, the industry accounts for about 4% of state employment and represents almost 11% of total manufacturing jobs. In 31 counties, including Forest County, the forest products industry is one of the top ten employers. Every 100 jobs in the forest products industry sector support an additional 123 jobs in the other sectors of the economy.
The Wisconsin Economic Development Corporation (WEDC) reports that Wisconsin continues to be the #1 papermaking state in the U.S., shipping almost $14 billion worth of paper annually. The forest products sector directly employs over 63,000 people. Wisconsin's forest products sector accounted for about 7% of the state's exports in 2018. These exports traveled to a total of 117 countries around the world.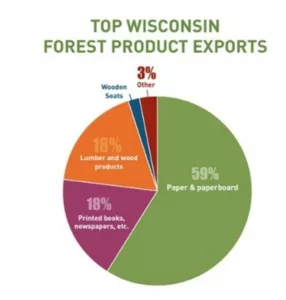 According to an article from the Wisconsin Woodland Owners Association (WWOA), Wisconsin exported forest products worth $1.5 billion across all categories in 2018. These exports make up a significant portion of Wisconsin's total exports: between 6 and 8% every year for the past two decades. The majority of these exports are paper and paperboard ($890 million, or 59%). Printed books, newspapers and manuscripts make up 18%, and lumber and wood products also 18%. Wood pulp and furniture make up the balance of the exports. Canada and China are the top destinations for Wisconsin wood products.
The WWOA article went on to explain that Wisconsin's strong forest products industry is supported by a number of University of Wisconsin educational and research facilities to help keep Wisconsin's forests healthy, create innovative uses of wood fiber, and provide career opportunities:
UW-Stevens Point's forestry program includes majors in ecosystem restoration and management, forest management, forest recreation, urban and community forestry, and wildland fire science. The forestry majors are accredited by the Society of American Foresters.
UWSP's paper science and chemical engineering program focuses on improving the environmental performance and sustainability of large-scale industrial processes. The program's process engineering laboratory is home to the world's fastest student-run paper machine.
Wisconsin Institute for Sustainable Technology (WIST) at the University of Wisconsin-Stevens Point provides research, laboratory services and education for business and industry, bringing new ideas and innovation from the university to the private sector.
UW-Madison's forestry program offer a forestry science major and the Department of Forest and Wildlife Ecology offers two distinct graduate programs, MS and PhD degrees in Forestry. The Forest Science major is accredited by the Society of American Foresters.
Northcentral Technical College's Wood Technology Center of Excellence in Antigo is a one-of-a-kind facility that offers the only wood science associate degree program in North America, and also offers a technical diploma in wood technology and a certificate program in CNC router operation.
Mid-State Technical College offers a two-year Arborist Technician Program that equips students with the fundamentals of tree care and urban forest management.
Fox Valley Technical College offers a Forest Management Specialist certificate related to forest and land management, along with wildland fire – both suppression and prescribed burning applications.
USDA, US Forest Service's National Forest Products Laboratory in Madison is the Nation's only federally funded wood utilization research laboratory. Its current areas of research emphasis include advanced composites, advanced structures, forest biorefinery, nanotechnology and woody biomass utilization.