Conservation Corner

Conservation Corner is a weekly article produced by the Forest County Land &Water Conservation Department. For more information contact Steve Kircher, County Conservationist-Land Information/GIS Director at 715-478-1387 or by e-mail at .
In Wisconsin, some keystone plants stand above all the others: oak trees.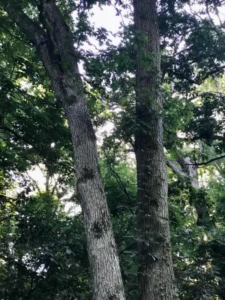 Keystone oaks for the Dairy State include white, bur, swamp white, chinkapin and black.  In fact, the white oak Quercus alba is listed as the No. 1 keystone plant for nearly the entire state, according to the National Wildlife Federation's list of keystone plants by ecoregion. This is because the white oak acts as a host plant for up to 450 species of caterpillars.
What exactly is a keystone plant? Even veteran gardeners and landscapers may not be familiar with the term. In addition to oak trees, what are some of the other keystone plants for Wisconsin?
According to Ben French, Ben French, vice president of propagation and product development at Johnson's Nursery in Menomonee Falls, a keystone plant is significant to the food web in a higher degree than average.  French said keystone plants have a "high ecological value" but the definition can be subjective and specific species will change with the location.
In architecture, a keystone is the central stone in an arch that locks the whole structure together. The term keystone species has been used in science for decades to describe a species that many others depend upon; and if it were removed, the ecosystem would destabilize and collapse.
Think of keystone plants as native plant overachievers. They are standouts supplying maximum impact. They are part of a trend toward viewing your backyard as one small piece of a much larger wildlife ecosystem. Some are simply calling it habitat gardening.
Trees top the list when it comes to keystone plants.  French said much of what happens in trees literally takes place over our heads. In yards, trees are lower-maintenance plants and often don't require the attention of property owners.
The reason trees are so key involves caterpillar diversity. Certain trees lead the list for keystone plants because they act as a host plant for many caterpillar species. In addition to oaks, other trees that top the list include American plum, black cherry, chokecherry, river birch, sweet birch, bitternut hickory and Eastern white pine.
Sugar maple, Wisconsin's state tree, is another keystone plant that acts as a host plant for well over 200 caterpillar species. Interestingly, silver maple and box elder, also a member of the maple family, along with Eastern cottonwood, are also keystone plants, according to the NWF. Those three, however, are sometimes thought of as "junk" trees to be removed but nonetheless offer high wildlife value.
In addition to oak, cherry and willow trees as keystone plants, flowering perennials including native goldenrods, asters, sunflowers, rudbeckias and milkweeds.
Goldenrod is listed as the top keystone perennial.  Goldenrod is one of the best plants for pollinators.  Also cited are native coneflowers, blazing stars, Joe Pye weeds and ironweeds as excellent keystone plants for yards. These are really good garden plants.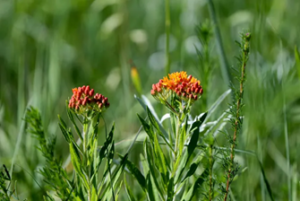 Butterfly Milkweed  As for milkweed, there is butterfly weed, a showy bright orange milkweed, for gardens with well-drained soil; and red milkweed, also called swamp milkweed, for average to moist soils.  As you probably know, Monarch butterflies depend on milkweed for egg laying, caterpillar hatching and food.  Monarchs were declared federally endangered this summer, and have been dramatically declining for years.
French said people will be amazed at the transformation of their yards by adding keystone plants. He has virtually covered his modest yard in West Allis with keystone plants and other natives to experience nature around the home he shares with his wife, Marian.  "It's a pleasure to be gardening with this goal in mind," French said.